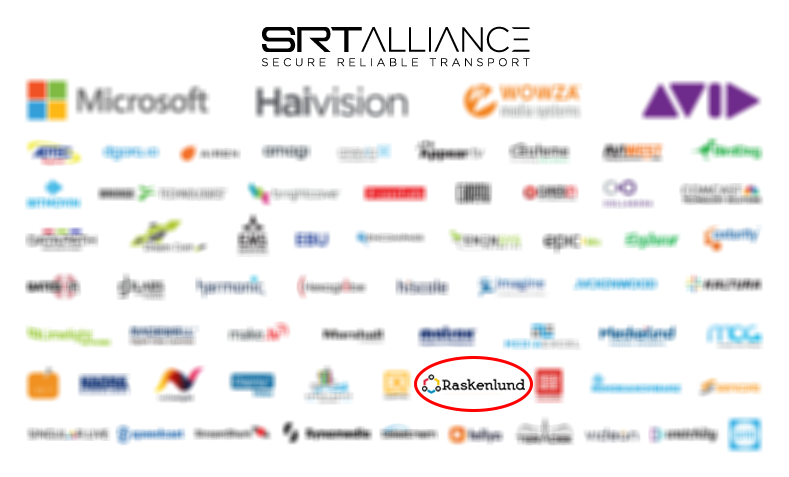 Raskenlund Joins SRT Alliance for High Quality, Low Latency Video Streaming Over the Internet
Stathelle, Norway,  April 2nd – Raskenlund – Streaming Media Experts, today announced that they have joined the SRT Alliance, the open-source initiative dedicated to overcome the challenges of law-latency video streaming.
As part of Raskenlund's overall strategy to embrace, promote and implement the latest proven and worth to invest in technologies, they decided to join the SRT Alliance.
The SRT Alliance, founded by Haivision and Wowza in April 2017, already has more than 300 members. Its mission is to overcome the challenges of low-latency live streaming by supporting the collaborative development of SRT (Secure Reliable Transport) through the SRT Project, the fastest growing open source streaming project. SRT is a free open source video transport protocol and technology stack originally developed and pioneered by Haivision that enables the delivery of high-quality and secure low-latency video across the public internet.
"We've been familiar and working with SRT since the early days, back in 2015. Due to the increased demand for the usage of this technology in our implementations we concluded that we had to become a member of the alliance. As such, we hope to share and gain insights in the latest developments of the technology as well connect with other industry leaders". Says Karel Boek, Founder & CEO at Raskenlund. 
"Raskenlund is a well known video streaming  systems integrator and consultant. By joining the SRT Alliance they'll enrich their knowledge about both SRT technology and ecosystem, being capable of advising their customers on the best SRT solution for their needs." Said Jesús (Suso) Carrillo, Director SRT Alliance at Haivision.
About the SRT Open Source Project & SRT Alliance
SRT is an open source video transport protocol and technology stack, developed and pioneered by Haivision, that optimizes streaming performance across unpredictable networks with secure streams and easy firewall traversal, bringing the best quality live video over the worst networks. The SRT Open Source Project, supported by the SRT Alliance, is a collaborative community of industry leaders and developers striving to achieve lower latency Internet video transport by continuously improving open-source SRT. For more information about the project and how to join the SRT Alliance, visit srtalliance.org.
About Raskenlund
Raskenlund offers Consultancy and System Integration for Streaming Media solutions. Raskenlund has over 20 years industry experience, and in the past 10 years we've helped more than 150 customers with over 200 projects. Our highly skilled consultants can help from the initial idea to the final delivery of the project as a working and solid technical implementation
Media Contacts
Raskenlund:

Karel Boek, CEO
Phone: +1 415 319 7661
mail@raskenlund.com

SRT Alliance:
Jesús (Suso) Carrillo, Director SRT Alliance
Phone: +34 649 801 593
director@srtalliance.org
suso@haivision.com