Building an HbbTV compliant CDN for Digita.
Digita and Raskenlund have been working for almost 5 years together. Time to give our partner a forum to speak. We asked Tommi Heikkilä how he would describe our collaboration in his own words.

My name is Tommi Heikkilä, a digital television and streaming video specialist, I work as Technical Service Manager at Digita, a tv and radio network operator in Finland. A few words about Digita, Digita operates and maintains DVB-T/T2 television networks, FM radio networks, IOT network and provide value added services and solutions based on those networks. In addition to networks we are in the platform business, providing video head-end solutions and HbbTV technology based solutions as a specialty.  My area of responsibility concerns video streaming services and solutions, our specialty is to offer reliable 24/7 live streaming services for our customer who typically are broadcasters and media houses.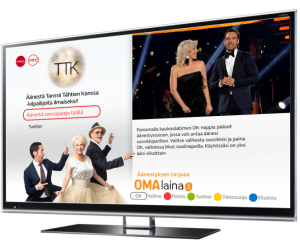 I was asked to tell something about Raskenlund who is Digita's partner in video streaming context. So, let's go back to year 2015 when all this started. Digita was seeking for new business alternatives and was to strengthen its service offering by taking a stronger role in Internet video distribution solutions. The main driver at that time was Hbbtv (Hybrid Broadcast Broadband TV), which Digita strongly supports as a company. HbbTV allows some nice video streaming applications to build upon it but requires flexibility from content delivery implementations. It was seen that there was no 3rd party who could provide HbbTV compliant CDN solutions and therefore Digita decided to build the solution by itself. However, Digita acknowledged that it did not itself have the necessary expertise in CDN solutions, but needed help from outside. Raskenlund's name quickly came to light when Digita set out to find professionals.
After initial discussions with Raskenlund, confidence soon arose that the right partner had been found. Initially, Raskenlund was asked to make an architectural plan and cost calculation for the CDN solution, which was supplemented by Digita's own business figures. Digita made the decision to move on. At that point it was easy to choose Raskenlund as a partner to implement the solution.
To date, Raskenlund has teamed up with Digita's professional desk to create an operative CDN platform for national use, facing various challenges as well as strategic changes. Raskenlund has shown the true professionalism in fulfilling Digita's wishes, and has brought his own insight and expertise to bear in mind when considering alternatives. As Hbbtv standards and termninals have evolved, the need for Digita's own CDN infrastructure has diminished and the emphasis has shifted to CDN Origin and head-end platforms.
Cooperation with Raskenlund still continues and new implementations based on the top of existing platform are being built. Raskenlund has become known within Digita for its ultra fast response time, professional skill and straight, easy and honest communication.